Experience & Venue
PeteFest 2020 will take place at Jones Fields, a 90-acre nature preserve located off Seatonville Road, just 30 minutes from downtown Louisville. Enjoy a beautiful Kentucky landscape with gently rolling hills and an extensive camping area.
Jones Fields- 8401 Dawson Hill Rd, Louisville, KY 40299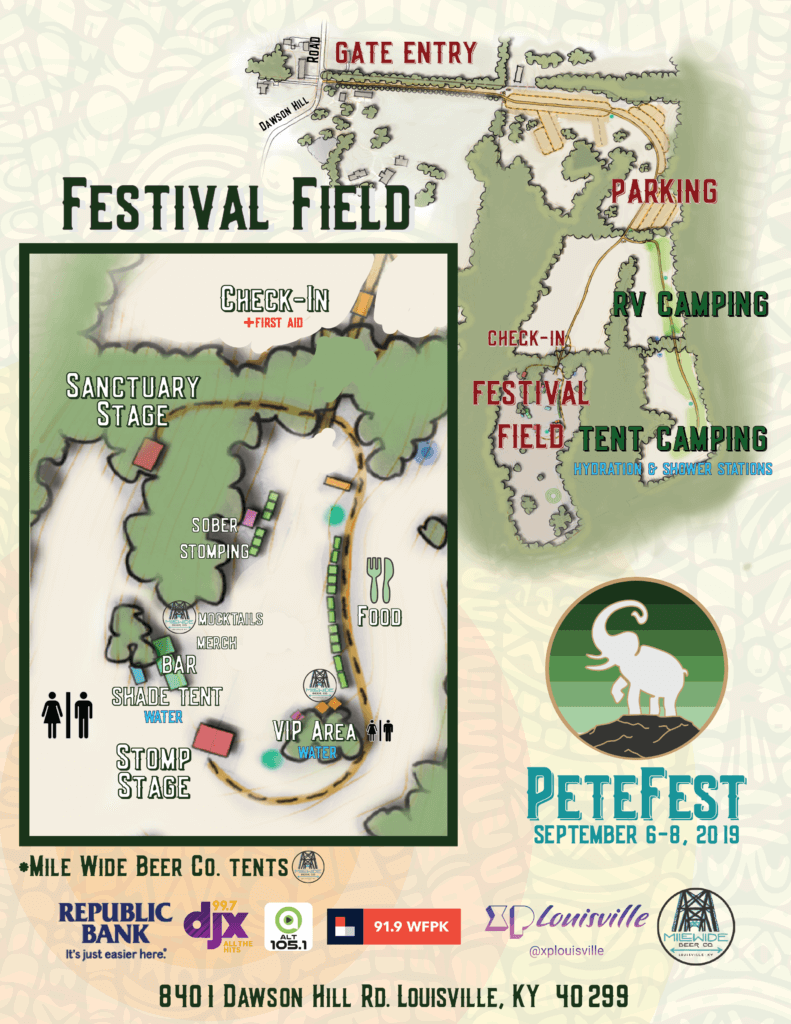 Amazing Musicians
Louisville is a music town. Find incredible musical talent at PeteFest: some local, some national. Celebrate old favorites, discover new musicians; it's all here. Give yourself over to an incredible lineup in a beautiful retreat from the expected.
CirqueLouis & The Unicycle Project
We're pleased to announce our collaboration with CirqueLouis on their newly renamed outreach branch – The Unicycle Project.
CirqueLouis will offer circus performances and exhibits the entire weekend of PeteFest in hopes to join forces with the organization to aid in suicide prevention and awareness.
Free QPR Suicide Intervention Training
The Pete Foundation will again offer an optional, free suicide intervention workshop for guests on Sunday morning prior to the opening of music and other activities. The 90-minute, "QPR", or Question, Persuade, Refer, training is evidence-based and designed to educate individuals on how to detect suicidal thoughts and how to save a life from suicide in a crisis situation. More information about the workshop can be found at The Pete Foundation.
Festival Village
Visit the PeteFest Village to discover phenomenal artwork, shop local vendors for unique crafts and merchandise, and feast at some of Kentucky's most delicious food trucks.
Live Art Installations
Enjoy the many impressive art installations created by Louisville's talented artists around the festival grounds, plus some live muralists creating masterpieces on-site.
Sunrise Yoga
Bring your yoga mats and start your mornings with a relaxing, empowering yoga session with our amazing Yogis! It's the perfect way to kick off your day and recuperate from a glorious night of live music.
Free Parking
No need to worry about parking. Free parking will be available on the farm, within walking distance of the main stage, camping areas, food vendors, and activities.
Camping
Camping is free for all festival goers this year! And will be available on a first come first serve basis. Set up your tent; stay awhile! Jones Fields boasts 90 scenic acres, fresh air, morning yoga, need we say more? Wake up to a fresh cup of coffee and a delicious breakfast from local food vendors. Bring your friends and family; redefine what it means to get away for the weekend. Plus enjoy free showers with running water!
If you would like to keep your car in the campground you will be required to have a Car-Camping Pass. A car camping pass can be purchased for $20 online with your tickets or day of.
Free Drinking Water Stations
Conveniently located water stations will provide fresh water on site to all patrons, free of charge; just bring a refillable water bottle. It will be warm out there, so be sure to stay hydrated!